ABOUT RAEVON

Hi, my name is Belinda Goyarts and I am besotted by the PUG breed!!!

In March 2001, Karl Estreich (Edendale Pugs) and Shelley Reeves (Rolex Rottweilers) flew from New Zealand to Melbourne to title their Multi Best in Show winning Rottweiler and their Multi Best in Show winning Pug - NZ Grand Champion Glomar Opera Singer.

Both won the Group at Geelong on their final day in Melbourne, the pug getting her final 19 points - and as Karl had a plane to catch - I was handed this pug ... a tiny, rampant pit bull terrier crossed with a rottweiler - and told to handle it for Best in Show! Advised in advance to wrap the lead twice around its feral little neck, I shot off around the ring behind a steam train on legs.

And so I fell in love with pugs. On the ferry home from Geelong to Mornington, the first thing I did was ring Angela (Karl's wife) and insist that a pug be flown over immediately! Not a baby mind you, but one that had 'been prepared earlier'!

And so it was that Edendale Billy Piper arrived - (a daughter of the Feral Steam Train on legs). Having been warned that pugs were addictive - it was no surprise that a half brother to the Steam Train arrived soon after - and on it goes.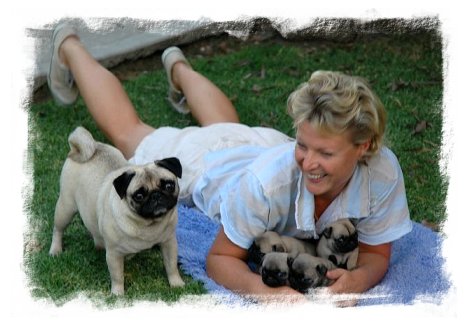 In 2003 Angela (Founder of the famous Edendale Pugs prefix) moved to Queensland with Karl and her family and joined us in the Raevon Prefix. So with her knowledge and background in Pugs, and the facilities at Mornington Lodge, we will co-breed our Pugs under the Raevon banner and look forward to a bright, successful future.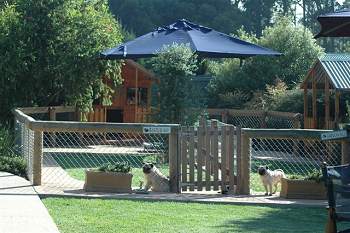 The Pug Cubbies - for our Pugs use during the day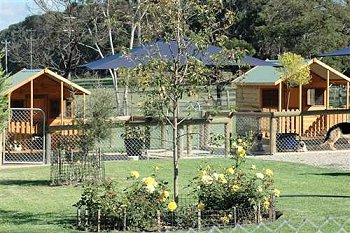 More Pug Cubbies
(plus our guard dog German Shepherd who loves to visit them
when they are in residence)



Belinda, is also the owner of the very successful Mornington Lodge Boarding Kennels and Cattery


~~~~~
ABOUT EDENDALE

Edendale Kennels was founded by us, Karl and Angela Estreich, in 1992 when we acquired our first Pug as a family pet for our children. Sydney (CH Scarborough Happy Chap) is a great family dog and was shown to his championship title in the show ring winning many in show awards, this started our addiction to this phenomenal breed of dog.

After studying the New Zealand Kennel club breed standard and the breed in the show ring, we purchased a breeding bitch, NZ CH Hollyhaven Ch'i was one of our family favorites with her great personality and her cheeky ways of getting what she wanted, she truly owned us! She gained her championship title and produced 4 litters for us producing our All Breeds and specialty Best in Show winning bitch, NZ B.I.S.S & B.I.S CH Edendale Tazi Connecton and her litter brother, AUST CH Edendale Kissed By A Kiwi, (owned in Australia by Yvonne Metzger) and CH Edendale Miss Hope (the daughter of CH Scarborough Happy Chap).

We imported some very important dogs from Australia to improve our standard in New Zealand, notably NZ B.I.S.S CH Birsay Marc Nicky (Imp Aust), who is the sire of CH Edendale Leather N Lace (daughter of CH Edendale Miss Hope), NZ B.I.S GRAND CH & AUST CH Glomar Opera Singer (the daughter of one of New Zealand's top show bitches NZ B.I.S.S & B.I.S CH Glomar The One And Only), CH Shavella in the Nick of Time (the son of CH Glomar Rythym N Blues) (owned by Brian & Tania Corric), Aust B.I.S.S & B.I.S Grand CH & N.Z B.I.S.S & B.I.S Grand CH Shavella My Choice (also a son of CH Glomar Rythym N Blues) ( owned by Penny Ward, Graham Cooper & Julie Hudson).



Influential Pugs > > > > >



We then imported AUST B.I.S CH Belmignon Eugene Prince (owned in Australia by Yvonne Metzger), the sire of NZ B.I.S.S && B.I.S CH Edendale Tazi Connecton and AUST CH Edendale Kissed By A Kiwi, also the sire of American Canadian & N.Z Ch Edendale Causing a Riot.

After Eugene came his son AUST B.I.S.S Ch Pugholm Sweet William, the sire of Aust Ch Edendale Billy Piper (It is this Bitch Ch Edendale Billy Piper that started the great partnership with the Raevon kennels). Raevon Kennels known for their great winning Boxers and now their great winning pugs).

In New Zealand we had great success in the show ring with NZ B.I.S GRAND CH & AUST CH Glomar Opera Singer, Jana, who was New Zealand Top Pug show bitch, and was awarded TOP PUG of the year for 2002 on the Pedigree Points system. (She has continued her success in the showring with Belinda here in Australia) and our Rottweiler NZ B.I.S.S & B.I.S GRAND CH & AUST CH Rolex Rumour Has It, owned in partnership with his breeder Shelley Reeves. Ronan is now in England is a multi Best in Shows winner.

Since this partnership began, both Belinda and I have successfully shown Pugs in Australia, as we had shipped the dogs across to Belinda in Melbourne, when both Karl and I relocated to Queensland.

Since arriving in Australia both Karl and myself have enjoyed helping Belinda with the next generation of Pugs..... Aust Ch Edendale Jack Daniels, Aust Ch Edendale Billy Piper, Raevon Paris Diva, Raevon Jackson, Raevon out of the Closet, and recently the introduction of N.Z Ch Edendale Bailey's on Ice, the litter sister to Ch Edendale Jack Daniels.

We have enjoyed all the dogs that we imported to New Zealand for showing and breeding and thank the Australian owners for allowing these lovely dogs to come across the Tasman.

We have alot of plans for the future, and have now added Helen Baker and our daughter Shantelle, to our Kennel partnership. Both Helen and Shantelle are a great help with the dogs in housing and caring for them as well as we do.

Our daughters Shantelle, Tanya and Victoria all love being owned by our PUGS!!

Edendale Kennels would like to thank the following people: Jock & Elainne McRae (Birsay Kennels), Yvonne Metzger (Kurvon Kennels), Paula Bottoms (Pugholm Kennels) and Penny Ward (Glomar Kennels) for all their support, and to all the New Zealand and International Judges who have found the quality in our Pugs.

Karl & Angela